CMA Foundation - All Subjects Combo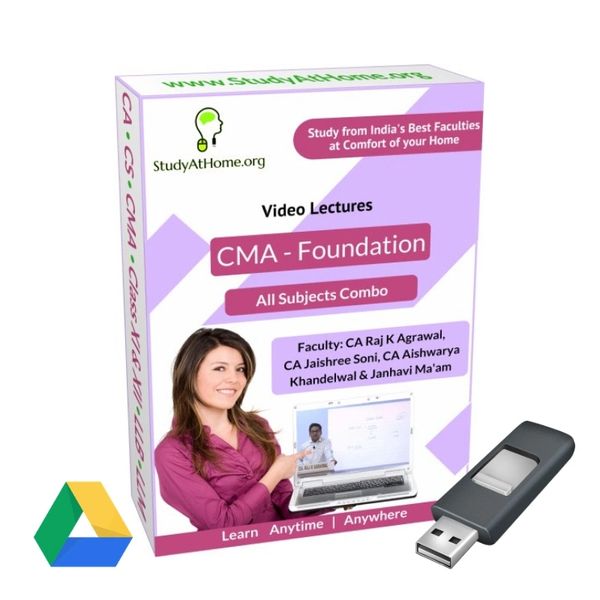 CMA Foundation - All Subjects Combo
No. of Lectures:  118
Video Duration:  142 Hours
Internet is required for 1 or 2 seconds each time when video player is started.
3 Times Views means watch time allowed is 3 times of the video duration for each video individually. For example, if a video is of 1.5 hours, time allowed to view would be 4.5 hours. Suppose you watch for 10 minutes and close the player, you will still have 4 hours & 20 minutes remaining. Watch time will not be consumed while doing forward or backward in the player. In case you watch 10 minutes at the speed of 1.5x, it shall be counted as 15 minutes.
Faculty: 
1. Fundamentals of Economics & Management Lecture by CA Aishwarya Khandelwal & Janhavi Ma'am
2. 
Fundamentals of 
Accounting Lecture by 
CA Raj K Agrawal
3. 
Fundamentals of Laws & Ethics Lecture by 
CA Jaishree Soni
4. Fundamentals of Business Mathematics & Statistics 
Lecture by 
CA Raj K Agrawal
Lectures via Download Link or Pendrive: 
1. If Download Link Option is selected - A Link to download lectures purchased would be sent via email, once lectures are downloaded it would run completely offline i.e. without internet. 
2. If Pendrive Option is selected - Lectures in Pendrive would be sent via courier.
Reviews